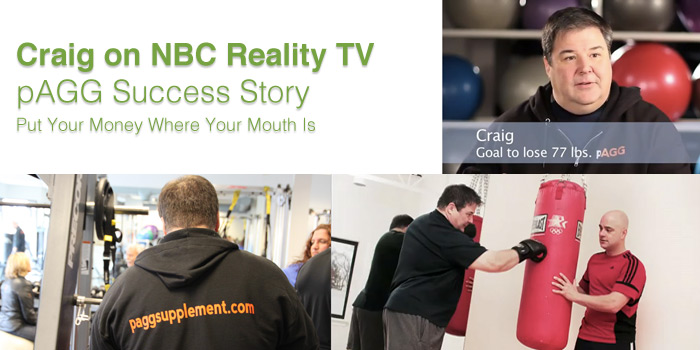 Craig has a goal to lose 77lbs in 12 weeks with the help of pAGG, Tony & Michelle
NewHealth Solutions has sponsored an NBC Reality TV Show called "Put Your Money Where Your Mouth Is" where contestants get paid to lose weight.  Craig is looking to earn $770 and a chance to win $5,000 if he can lose his goal weight of 77 lbs.  Craig is following a diet and exercise routine and supplementing with pAGG by NewHealth Solutions to help his efforts.  Cheer Craig along on our Facebook Page and help him reach his goal.
Below you will find Craig's weigh-ins for each week and the pAGG Team's blog.
Week one: Craig Loses 13 lbs
It has begun!  We had a great initial training week with Craig.  He responded better than expected to the exercises.  Although, I will say he seems to struggle a little mentally to them.  He lacks confidence in himself and tends to do the exercises with discontent.  This is a barrier we will have to break through. read more
Week two: Craig Loses 7lbs
Let me first just say that Craig is truly an inspiration for anyone who is overweight and has struggled with self-motivation! It seems that things are starting to click already for Craig and are getting a little easier. We basically stuck to the same program and exercises as we did last week. read more
Week three: Craig Loses 5lbs
Week three proved to be trying. In fact, we are extremely nervous about weigh-in day. The rigorous schedule, intense training and complete nutrition over-haul seems to be weighing on Craig's mind. Not to mention, he has been suffering from a bad head cold and muscle soreness in his back. read more
Week four: Craig Loses 6lbs
I thought we were on an up-swing this week. This wasn't the case. While training with Michelle, Craig dropped to the ground and had a melt-down. Though we have been having great success, he is struggling with future thoughts. "What if"? "What happens when"? "What do I do"?  read more
Week five: Craig Loses 3lbs
What a difficult week! Unfortunately Craig and I were only able to meet once this week due to schedule conflicts. This crushed me, but I doubt it had the same effect on Craig…Ha, ha! So unfortunately, no partner training drills, which he really likes and kicks his butt at the same time. read more
Week six: Craig Loses 8lbs
This week Michelle and I went on vacation. We left Craig in the capable hands of the rest of our team as well as another trainer of ours. They all had their instructions and tasks at hand. But I will tell you the key person we had working with Craig…it was Craig himself. read more
Week seven: Craig Loses 2lbs
This was a fun week. Michelle invited the Asbach family to join us and our family for an evening of family, fitness and fun! Michelle and I took turns heading up various group fitness exercises that were basic enough for the kids, but that were also intense enough to get a good productive workout in. read more
Week eight: Craig Loses 4lbs
I am continually amazed by Craig's resolve. He begins each training session in protest…but always fights through every exercise giving 110%. Craig has continued to make progress in all aspects of his training regimen. He is showing improvement physically, mentally as well as spiritually, but we continue to work on the emotional realm. read more
Week nine: Injury, Craig Loses 0lbs
This was not a good week at all! While training Craig on Tuesday night…he pulled a hamstring muscle. I completely take full responsibility for this. Let me tell you the story. "I had just finished working with my son's 9-13 year old football group so we were down on the 20 yard track already. read more
Week ten: Craig Loses 9lbs
This is proving to be yet another tough week. Craig has been out of town three of the seven days. Though he was not exercising to any degree; we think this time off will still prove positive. I will let Craig describe his adventure in detail; but what I can tell you is that it was men's spiritual retreat. read more
Week eleven: Craig Loses 10lbs
We are in the final stretch! Craig is finally taking ownership of this program. That is not to say that we are not experiencing our challenges…not journaling all the time…not counting the calories all the time…not adhering to the meal plan all the time…not hitting every personal workout all the time. But I'll tell you what…I am OK with 80% of the time! read more
Week twelve: Final Weigh In. Craig Loses 10lbs – 77lbs in 12 Weeks!
This is it! We had a great week last week with some major alterations to program for the final stretch. We continued again this week. We are doing everything within health reason to help Craig hit his number and make a major impact in his life. Not only are we hitting the exercises harder than ever…paying attention to proper nutrition and meal size…read more
What are you waiting for?
Are you anything like Craig? Have you struggled with achieving your weight loss goals, not knowing if changing the status quo is possible?  Well it is possible.  Craig is real, the weight he is losing is real.  Follow his program and you too can achieve your fitness goals.