Craig's Blog: Week 9, Injury down 0lbs, 48lbs total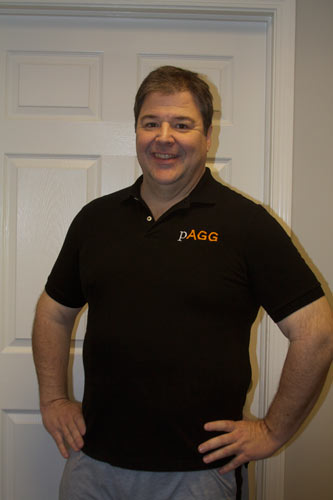 Starting Weight: 306lbs
Weight lost in week 9: 0lbs
Weight after week 9: 258lbs
Pounds left to lose: 29lbs
Follow Craig on our Facebook Page and cheer him on, he needs your encouragement!
Week 9 Update
This was not a good week at all! While training Craig on Tuesday night…he pulled a hamstring muscle. I completely take full responsibility for this. Let me tell you the story. "I had just finished working with my son's 9-13 year old football group so we were down on the 20 yard track already. I had Craig finishing up his active warm-ups and dynamic stretches. My son Emerson was hanging out with us and was watching Craig run some easy sprints. Emerson decided to challenge Craig to a race. I originally said no, but when Craig agreed to the challenge…I allowed the race to proceed. They set up for the race, I blew the whistle and off they went. As they progressed down the track I noticed Craig was just slightly behind my son by only about two strides and it carried over past the finish line. I was amazed and shared that with Craig. He asked me why I was so surprised, and I told him that is was because Emerson is my fastest kid in the group. Emerson then challenged Craig to another race. I again said no…and Craig again agreed to the challenge. I told Craig to take it easy. I should have listened to my gut. They set up again and I blew the whistle. They screamed down the track exactly the same way; but this time, when they neared the finish line I noticed Craig's pride for the first time. As the finish line became evident, he launched one last burst of power…he wanted to win so badly! It was then that it happened. His hammy popped and Craig fell to the ground in excruciating pain…our week was over!"
At least the workouts were anyway 🙁
We spent the remainder of the week rehabilitating his hamstring. We had Craig rest and ice his leg. With much caution Craig worked with our massage therapist Lora and our Chiropractor Dr. Rachel. We knew without exercise, it would be tough for him to lose any weight, and that he may even gain. So we ended up having Craig cut back on his caloric intake. At this point we would all accept a break even!
What are you waiting for?
Are you anything like Craig? Have you struggled with achieving your weight loss goals, not knowing if changing the status quo is possible? Well it is possible. Craig is real, the weight he is losing is real. Follow his program and you too can achieve your fitness goals.