Craig's Blog: Week 3, down 5lbs, 25lbs total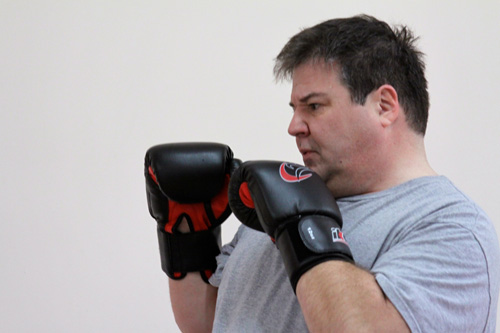 Starting Weight: 306lbs
Weight lost in week 3: 5lbs
Weight after week 3: 281lbs
Pounds left to lose: 52lbs
Follow Craig on our Facebook Page and cheer him on, he needs your encouragement!
Week 3 Update
Week three proved to be trying. In fact, we are extremely nervous about weigh-in day. The rigorous schedule, intense training and complete nutrition over-haul seems to be weighing on Craig's mind. Not to mention, he has been suffering from a bad head cold and muscle soreness in his back. Craig also missed his Yoga class and one cardio class that he was supposed to attend on his own…but that isn't what really concerned us since we needed him to take it a little easy this week while he recovered a bit. No, what really concerned us was his lack of communication.
Craig for a while was not returning our calls, texts or emails. However, we got beyond this and back on track. Michelle incorporated plyometric training with support as well as basic TRX exercises. Due to ailments, Michelle added more stretching focusing on relaxation.
I really wanted to make Craig challenge himself and truly realize his accomplishments. We ran several speed & agility drills where I had Craig compete against his own time. For upper & lower body power training, I incorporated tire flipping drills…I wanted Craig to carry the tire down the track…but I think that is going to have to wait a few weeks!
On the Karate front, I really have been working on Craig's form while delivering hand strikes and kicking techniques. The roundhouse kick is a new kick we are doing, and turning his hips over to deliver directional power is proving to be a little challenging for him. All in all, I think we are back on track and his head is in the game.
What are you waiting for?
Are you anything like Craig? Have you struggled with achieving your weight loss goals, not knowing if changing the status quo is possible?  Well it is possible.  Craig is real, the weight he is losing is real.  Follow his program and you too can achieve your fitness goals.