Craig's Blog: Week 7, down 2lbs, 44lbs total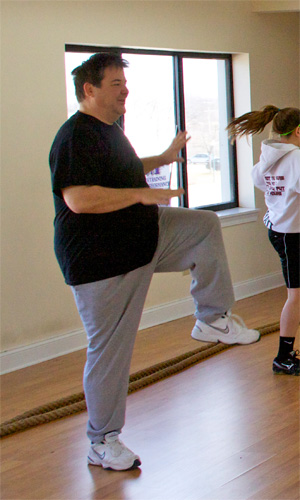 Starting Weight: 306lbs
Weight lost in week 7: 2lbs
Weight after week 7: 262lbs
Pounds left to lose: 33lbs
Follow Craig on our Facebook Page and cheer him on, he needs your encouragement!
Week 7 Update
This was a fun week. Michelle invited the Asbach family to join us and our family for an evening of family, fitness and fun! Michelle and I took turns heading up various group fitness exercises that were basic enough for the kids, but that were also intense enough to get a good productive workout in. Oh yeah, fun was another one of the operative words. All the kids had a blast as did Craig. I really think he needed this. They say that the best way to learn something is to teach it. So it was fun to watch Craig occasionally break form and correct one of his kids postures as they worked through the exercise…don't worry, after a secret smile we quickly got Craig back to the workout.
Being able to help and encourage his family truly gave Craig a sense of accomplishment. Craig's family is everything to him, and being able to lead by example proved to be a powerful tool for him. I don't know what the scale is going to say this week, but regardless…this will go down as one of the most productive weeks in the book!
What are you waiting for?
Are you anything like Craig? Have you struggled with achieving your weight loss goals, not knowing if changing the status quo is possible? Well it is possible. Craig is real, the weight he is losing is real. Follow his program and you too can achieve your fitness goals.