Craig's Blog: Week 8, down 4lbs, 48lbs total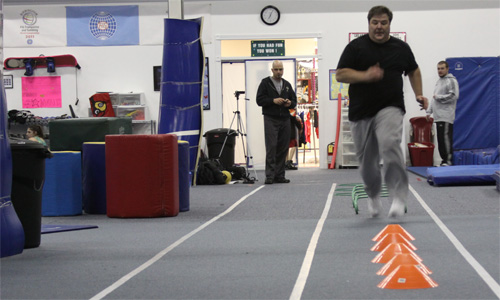 Starting Weight: 306lbs
Weight lost in week 8: 4lbs
Weight after week 8: 258lbs
Pounds left to lose: 29lbs
Follow Craig on our Facebook Page and cheer him on, he needs your encouragement!
Week 8 Update
I am continually amazed by Craig's resolve. He begins each training session in protest…but always fights through every exercise giving 110%. Craig has continued to make progress in all aspects of his training regimen. He is showing improvement physically, mentally as well as spiritually, but we continue to work on the emotional realm. We are so proud of Craig in all that his is doing. Michelle introduced a new piece of cardio equipment; the 1hr EFX elliptical. She started him out doing just 10-minutes at a time do to it being a new training aide and because he feels slightly unstable on the machine. Michelle reassured him that it will get easier the more he trains on it. Craig's cardio capacity is improving as well. When he is training with me, we are now spending less time resting between each set. I will also confess that he is getting better at breath control. Functional breathing is so important if you truly want to maximize results and capitalize on the benefits of the exercise. I also introduced Craig to a new exercise…wide-outs and weighted wide-outs with box jumps…he hates them. But wait till he sees the results!
What are you waiting for?
Are you anything like Craig? Have you struggled with achieving your weight loss goals, not knowing if changing the status quo is possible? Well it is possible. Craig is real, the weight he is losing is real. Follow his program and you too can achieve your fitness goals.