Craig's Blog Week 11: Down 10lbs, 67lbs total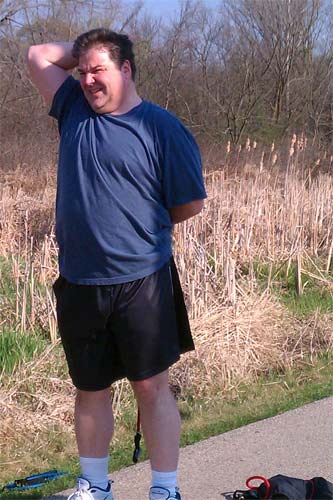 Starting Weight: 306lbs
Weight lost in week 11: 10lbs
Weight after week 11: 239lbs
Pounds left to lose: 10lbs
Follow Craig on our Facebook Page and cheer him on, he needs your encouragement!
Week 11 Update
We are in the final stretch! Craig is finally taking ownership of this program. That is not to say that we are not experiencing our challenges…not journaling all the time…not counting the calories all the time…not adhering to the meal plan all the time…not hitting every personal workout all the time. But I'll tell you what…I am OK with 80% of the time!
We are watching Craig like a hawk. The weather is breaking and Michelle has been taking Craig outside to workout. Craig is loving it! It is a change of pace and the air is invigorating. I am having my own challenges. This week I went in for foot surgery. You know…it is tough to kick someone in the butt with one bad foot! The worst part is…I had to have Michelle stand in for me for one my training sessions with Craig. She probably took it too easy on him I bet…you most likely would be able to subtract another pound or two from the scale this week if I trained him…HA!
What are you waiting for?
Are you anything like Craig? Have you struggled with achieving your weight loss goals, not knowing if changing the status quo is possible? Well it is possible. Craig is real, the weight he is losing is real. Follow his program and you too can achieve your fitness goals.