pAGG Testimonial: Heather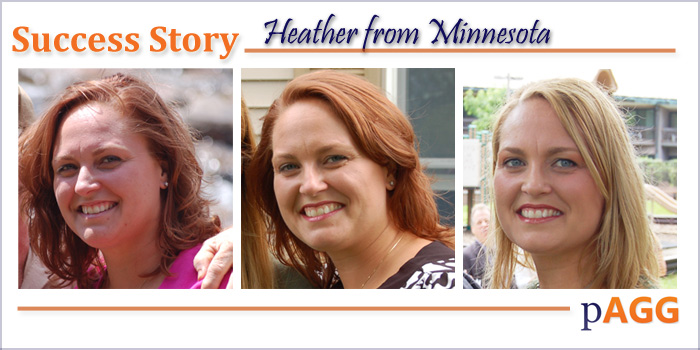 Mom martial artist Heather kicks fat's butt and looks great doing it.
"Thanks again for a great product that works!  You definitely have a believer in me!" – Heather from Minnesota
Heather in a nut-shell
When I started, I weighed in at my all time high of 228 lbs. I am 5'7" tall and have struggled with my weight ever since I had my children. With pAGG I feel like I am losing roughly a pound a week without really trying!! I mean I am eating well and making better choices, but pAGG makes it just fall off with very little effort. When previously trying to lose weight, – if I did not see results, I would get discouraged easily. With pAGG, I have managed to get down to 191 as of this AM!!! I am so excited. My goal is to hit 175 by the end of September (2011). My healthy weight range is around 155-160, so we will see. I am an athletic person and have always weighed more than I look, so I am going to re-assess at 170 to see if 160 is doable or if I will look too thin!! YAY!!
Heather's Diet
pAGG by NewHealth Solution: 1 pAGG All Day™ tablet before each meal and 1 pAGG Night Time™ tablet before bed
Sample Breakfast: 1/3 c egg whites with chopped green red and orange peppers, ½ cup of black beans mixed with corn and great northern beans with a teaspoon of salsa for flavor and two grilled chicken tenders.
Sample Lunch I would have some sort of salad with spinach and greens with veggies and grilled chicken with balsamic dressing or Italian dressing only.
Sample Dinner consisted of grilled chicken breast or turkey with the same bean mixture as breakfast along with a side of re-fried beans. Not very exciting but it kept me full—and the scale has shown me some serious results!!
I try to stay away from dairy and anything white. I tried to limit my fruits, but that is not possible for me 😉 so I do have SOME fruit! I still eat fruit, but definitely no dairy at all anymore. I try to stay as far away from anything white.
Heather has informed us that she may share her food journal if it is requested.
Heather's Exercise
I walk 3-6 times a week. I am not a runner, but I try to walk and jog too in those "walks"!! 😉 I am a martial artist – I currently have my red belt – and am looking forward to graduating to advanced red then on to brown and black – so hard work is something I definitely understand!
Note from NewHealth Solutions
Thank you Heather for letting us use your testimonial to inspire others to take on their goals.
What Heather describes here are reasonable changes that anyone can make in their lives to produce results.  pAGG is not a magic pill in a bottle – it is a stimulant-free weight loss aid that has been shown to help people lose fat when used in combination with the lifestyle changes that Heather made.  If you think you can make similar changes that fit your lifestyle, then what are you waiting for?  Heather showed you that it's possible.
If you have a comment or question for Heather, submit it to us and we will forward it to her on your behalf.
Button