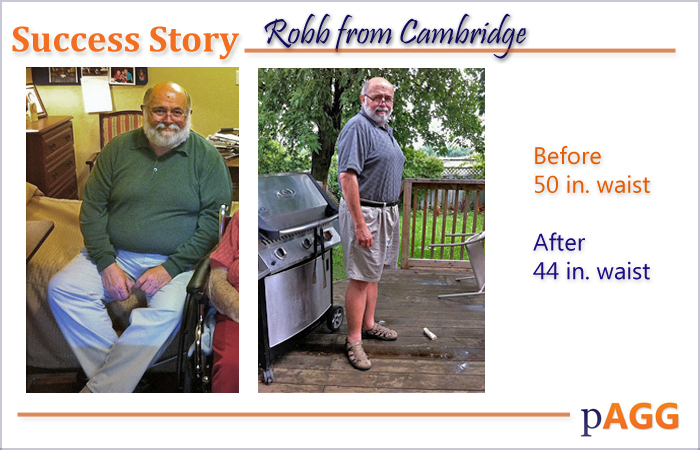 Robb is down 35lbs in 4 months and half way to his goal weight
pAGG and smart eating made it possible for me to take inches off my waist, feel more energetic and improve my blood health markers – Robb
Robb's Results
Hi – I'm Robb from Cambridge Ontario. I was 290 lbs on the Ides of March (March 15th) – and I knew I had to change so I started a Slow Carb diet and supplemented with pAGG stack by NewHealth solutions.
pAGG and smart eating made it possible for me to take inches off my waist, feel more energetic and improve my blood sugar health. I've lost over 35 lbs since the spring.  I couldn't ask for anything better.
In 4 months I am at 255lbs and half way to my goal weight – thank you pAGG by NewHealth Solutions
Note from NewHealth Solutions
Thank you Robb for letting us use your testimonial to inspire others to take on their goals.
Robb made some small changes that yielded some huge results: Consume whole natural foods, minimize "white" carbohydrates, and supplement with pAGG by NewHealth Solutions.  290 lbs was not a health weight for Robb and he decided to take control of his destiny.
If you want to take control of your own health and destiny, then what are you waiting for? Rob showed you that it's possible.
If you have a comment or question for Robb, submit it to us and we will forward it to him on your behalf and post his response here.
Button