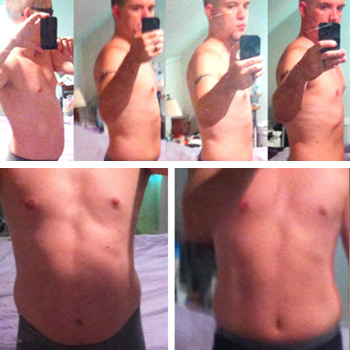 Mark, drops 17.5 in Month One, and continues to improve his body comp for Tough Mudder Competition
My name is Mark from Buffalo, I am a licensed insurance agent, and graphic designer.
Before starting my modified diet, and pAGG supplements, I weighed in at 187.5 lbs. I had tried other diets/exercise but nothing seemed to work. Products were getting recalled and I never really knew what was in them. A month later with pAGG I'm down to 170. lbs. My family and coworkers even notice a difference. I'm trying to get back to 160 and ready to run a half marathon.
My Routine (shortened version)
I take 1 pAGG All Day 15 before meals 3x / day and and 1 pAGG Night Time before bed.
Breakfast usually is scrambled egg/eggwhite/broccoli/refried beans
Lunch – steak with peppers onions, black and pinto beans
Dinner – pork/chicken, sautéed veggies and beans.
no carbs/dairy/fruits six out of the seven days of the week. I get one day to eat what I've been missing out on all week.
I've been running on an elliptical 2 times a week, trying to get my stamina up for my first half marathon.
Update 9/26/2012:
"I also wanted to give you guys an update, and thank you for an amazing product. I am mentioning it by name on my blog: http://dubbsproject.tumblr.com and have been talking it up at work.  I'd thought I'd share 2 month progress pics, and let you know that it's been a 20 lb loss."
Note from NewHealth Solutions
Thank you Mark for letting us use your testimonial to inspire others to take on their goals.
Mark is young and was able to turn on the jets and see great progress quickly. He tracks his progress on his blog, has an end goal in mind (total weight loss and Tough Mudder Marathon) which contributes to his success.
If you're like Mark and you are not at your optimal physical potential but want to get there fast, order now and see what pAGG can do for you.
If you have a comment or question for Mark, submit it to us and we will forward it to him on your behalf.
Button